Hisense is a large electronic information corporation from China founded in 1969. Hisense owns Hisense Appliance and Hisense Kelon Appliance, two listed companies. Hisense is also the only enterprise group in China which has three well known trademarks such as Hisense, Kelon and Ronshen.
On the 8th of January 2003, Quingdao Hisense/Hitachi airconditioning Systems Co, was founded with two phase construction area occupying a total of 58368m2. It is a joint venture between Hisense Group and Hitachi Appliances Inc, for airconditioning manufacturing, technology development, marketing and service. Hisense/Hitachi has a highly developed manufacturing plant with quality assurance facilities. Hisense/Hitachi is continuously developing new commercial airconditioners to keep up with the high demand for advanced technology, high specification and high quality airconditioning systems. With leading design, un-matched service and professional management Hisense/Hitachi is producing the most advanced central air conditioning technologies in China and then distributing these systems to the world market, leading China's CAC technology to a higher level and therefore creating a better eco-enviroment.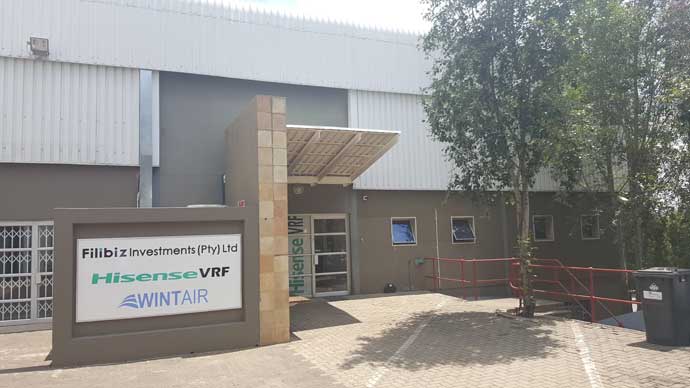 In 2013, Filibiz Investment (Pty) Ltd attained the distribution rights for the HISENSE VRF and WINTAIR airconditioning systems within the South African Market. The decision to represent these brands falls in line with the need to service the entire HVAC market within South Africa from an entry level economic point of view all the way up to the high end highly specified applications.
The Hisense group is one of China's largest airconditioning manufacturers acquiring controlling share in the Kelon factory in 2007. Significantly, Hisense enjoys a 49% ownership share with Hitachi Japan and this association is clearly evident in the quality on the finished product. Furthermore, this partnership has proven to be a success as the HISENSE brand has grown in both quality and market acceptance the world over.
Within the Southern African market the HISENSE and WINTAIR brand forms part of the same group of companies distributing the Petra, Berlimo and Mitsubishi Electric brands. Most notably, the ethos across all the brands distributed within the group is to supply high quality airconditioning equipment, ancillaries and the like supported by exceptional technical backup and comprehensive range of spares.
The group as a whole set the objectives to partner with international brands and factories that have a long term commitment to all their sales offices the world over directly ensuring that spare parts and back-up can be enjoyed well into the future of the products life span.